WELCOME TO GREENSBORO ALL STAR CHEERLEADING
Season 24 team placements and Summer practice schedule are located
under the News Link.
Practices begin May 20th. Proud to Be!!!
Summer Tumble Schedule is on website.
Registration for classes will begin on Thursday, May 23rd.
Summer Session 1 will be 5/28 thru 6/28-5 weeks
Summer Session 2 will be 7/8 thru 8/28-7 weeks
Registration for Session 2 will begin for team members on July 1 and general public July 2.
Summer Camps and Power Tumble Camps will be available for online registration beginning Thursday, May 23rd.
CHECK OUT THE NEWS LINK FOR NEW INFORMATION ON:
SUMMER SCHOOL CAMPS
SUMMER CHEER AND TUMBLE CAMPS
FLYER AND FLEXIBILITY CLINICS
COED STUNT CLINICS
OPEN GYM
NEW CHEER PREP PROGRAM FOR SCHOOL AND ALL STARS!
"The original, in a world of imitations, Greensboro All Stars the best, in the nation!"
CELEBRATING 23 YEARS OF EXCELLENCE!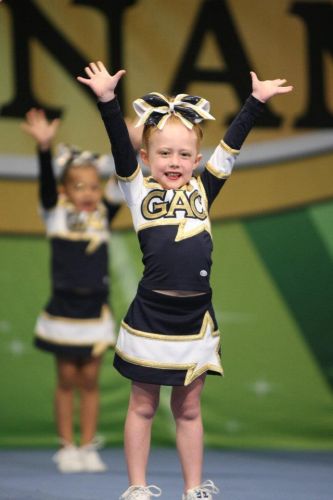 Our mission at GAC is "Through hard work, dedication and loyalty to our community, our mission at GAC is to provide a positive atmosphere where learning skills, building character, and personal achievement have become a renowned tradition. With genuine enthusiasm and a willing desire, our goal is to instill good ethical standards and high moral and academic achievement while molding the bodies and minds of today's youth."
"Show class, have pride, and display character. If you do, winning takes care of itself"