WELCOME TO GREENSBORO ALL STAR CHEERLEADING
NEW REVISED Summer Tumble Class Schedule is available under the Forms tab.
Join GAC for Season 25! 2014-2015 Info Packet located HERE
If you are unable to locate your number or could not make it to evaluations and would still like to join a team please email Anna Love at anna@cheergac.com
All Star Prep teams will have a 2nd evaluation in September and the teams will begin practicing in October!
Sapphires-Special Needs-Thursday 530-630
Gianna Forrest
Courtney Pyburn
Shelby Hadas
Ginna Towery
Hayley Shaw
Molly Barrow
CrystaLites (Tiny 1)-Tuesday 530-7
Addie Roy
Annabella Beasley
Christin Jackson
Crislyn Walker
Jordyn Evans
Jurney Manning
Kyleigh King
Kyndall Chambers
Lauryn Lewis
Lexi Aspiazu
Masty Ingram-Golden
Morgan Keith
Tenleigh Siska
"The original, in a world of imitations, Greensboro All Stars the best, in the nation!"
CELEBRATING 25 YEARS OF EXCELLENCE!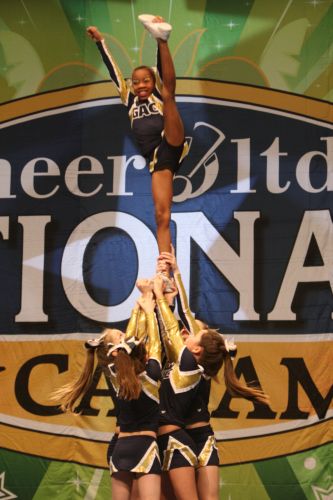 Our mission at GAC is "Through hard work, dedication and loyalty to our community, our mission at GAC is to provide a positive atmosphere where learning skills, building character, and personal achievement have become a renowned tradition. With genuine enthusiasm and a willing desire, our goal is to instill good ethical standards and high moral and academic achievement while molding the bodies and minds of today's youth."
"Show class, have pride, and display character. If you do, winning takes care of itself"
To register for a class, scroll to the bottom of this page and enter portal. If you are new to GAC please send email to cindy@cheergac.com to be added to our system. All registrations must be done online.
Click HERE to enter the Jackrabbit Portal for payments and registrations.