GAC will be closed for Thanksgiving break (No team practices or classes Monday November 23rd-Saturday November 29th). We will be having open gym on Monday, Tuesday and Friday of this week! Please see flyer below for detailed hours! We hope everyone has a safe and wonderful holiday break! We are THANKFUL for you all!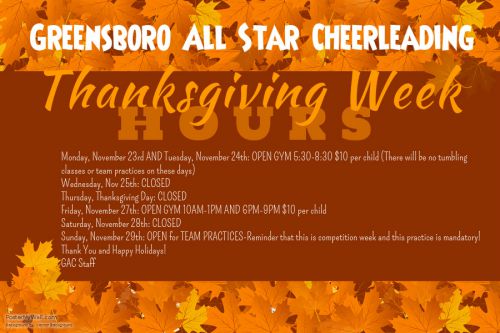 REGISTRATION FOR FALL SESSION 2 HAS BEGUN! YOU CAN STILL REGISTER ONLINE IF YOU HAVE NOT ALREADY DONE SO!
Please make sure to register and pay online on your JackRabbit account!
HALF YEAR ALL STAR PREP CHEERLEADING IS BACK! IF YOU ARE INTERESTED IN JOINING THIS AWESOME PROGRAM PLEASE CALL OR EMAIL US TODAY TO SET UP AN EVALUATION!
INFOMATION IS NOW AVAILABLE UNDER THE FORMS LINK!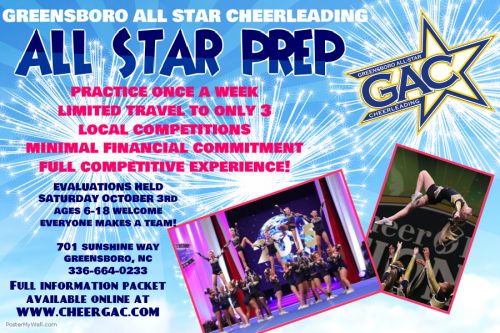 If you are not in our system, send an email to Tricia@cheergac.com to get access.
"The original, in a world of imitations, Greensboro All Stars the best, in the nation!"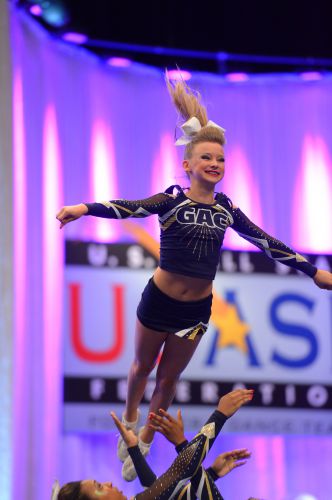 Our mission at GAC is "Through hard work, dedication and loyalty to our community, our mission at GAC is to provide a positive atmosphere where learning skills, building character, and personal achievement have become a renowned tradition. With genuine enthusiasm and a willing desire, our goal is to instill good ethical standards and high moral and academic achievement while molding the bodies and minds of today's youth."
"Show class, have pride, and display character. If you do, winning takes care of itself"
To register for a class, scroll to the bottom of this page and enter portal. If you are new to GAC please send email to Tricia@cheergac.com to be added to our system. All registrations must be done online.
Click HERE to enter the Jackrabbit Portal for payments and registrations.